Spiritus phantasticus (mundus quidem et sinus inexplebilis formarum et specierum – a never saturable world or gulf of forms and species) is a hybrid audiovisual composition that operates on two pairs of expressive levels:
on the technological level, animations (made with the language "Processing") overlap with images taken from the real world;
the first ones are based on particle systems conditioned by combinational trajectories of harmonic motions and the second ones realized exclusively with camera movements on abandoned mining landscapes.
Starting from industrial ruins, elementary forms of life are reborn (the particle system), an "intelligence" (the compositions of harmonic motions) capable, like a "new Big Bang", of generating different forms of life.
The audio of the work is realized, through the language Supercollider, starting from chaotic generators that influence with different tones and in a alternation foreground / background the images.
There is a world or a gulf (sinus) of the potential multiplicity indispensable for every form of knowledge, the creative fantasy acts as an electronic machine that takes into account all possible combinations and chooses those that respond to an end, or that are simply the most interesting or pleasant or fun.
But in this fantastic gulf the images given to us by culture or memory, how can they be reworked by the imagination ?
The visual memory of the individual is not limited to the heritage of his direct experience, but the combinatorial faculty of the particles and the mnemonic trace that they describe together can create new, different and innumerable combinations, formations, agglomerations.
The combinatory movement of the particle forms evolves into another world of images in which, even though traces of the particle shapes remain, it gives life, thanks to a rotary movement, to other more and more perfect forms, which recall the rotation solids and pulsate , finally leaving space to a sinusoidal network animated by chaotic sounds that are concentrated in small spheres that direct the movement towards new "gulfs".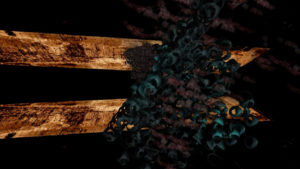 Skip back to main navigation